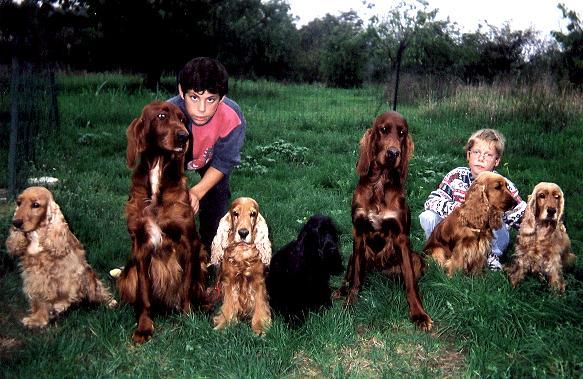 My boys and our dogs, September 2001
We started with German Shephards and than English Cockers. In 1987 the first Irish Setter joined the family. We mostly breed English Cockers, but are better known internationaly for our beautiful Irish Setters. We have also bred a litter of Miniature Longhaired Dachshounds. My sons enjoy Junior Handling. All the dogs in our kennel are FT qualified. We have exported puppies to Croatia, Italy, Austria, Germany, France, Belgium, Holland, Finland and the Phillipines.
Thanks to 4000 visitors to our site so far from more than 55 countries all over the world.
LOOK AT THE PHOTOS OF OUR PUPPIES
MORE PHOTOS OF OUR PUPPIES NOW AT 6,5 WEEKS OLD
OUR PUPPIES AT 5 AND 6 MONTHS OLD
OUR PUPPIES AT 10 TO 18 MONTHS OLD

Please, feel free to contact us on the following address:
Miss

Slavica Skalar, Oljčna pot 17, 6280 Ankaran, Slovenia

telephone:

00386-5-6527-588 (slovene, croatian, english or italian)

or mail to

slavica.skalar@ob-valdoltra.si
Sign My Guestbook

View My Guestbook

This page was last updated on: 27/10/2001.